I seem to do these posts about 2 years apart. Oh well. It's April 2018, my birthday has been and gone, and my tech has been updated yet again. What new toys do I have in store? What do I recommend? Well, find out now!
What hasn't changed?
Some things change, some things stay the same. The following is a list and a few comments about what I still have from the last time I did this:
My laptops- Still have my Thinkpad, and I still have my Fujitsu. Both are running the latest version of Windows 10. I am noticing a few kinks with the Thinkpad. It may need to be restored, but it is still operational.
iPod- Technically new, because my 64 GB one died. While I was playing music, it stopped working. Tried a few methods to get it back, but it had decided on early retirement. I have gotten a 128gb iPod Touch now. Very expensive, but it works.
The Walkman- Still cool, still playing CDs. It sits on top of my CD shelf, in pride and place now.
My cameras- Still have the Olympus and the Nikon, plus a new addition…
My new toys (and there is a few)
My Phone- Google Pixel 2
The last post I wrote, I had my Nexus 5X for nine months, and it was a good phone, but this just takes the cake. The camera is better, the battery is amazing, it charges quickly, and it is a joy to use. The phone is 64GB and running Android 8.1. The Pixel 2's main feature is the camera, which has an excellent portrait mode that makes photos seem much more professional and artistic. The virtual assistant, Google Assistant, is great. You can just squeeze the sides of the phone and it comes up! Its brilliant, and it is something I use all the time.
I even have a few accessories with this phone, including the google cardboard VR headset, and a phone case that changes the wallpaper daily. Mine shows me images from google earth as my wallpaper, and it is good. Also, a final note, the only difference between this phone, and the Pixel 2 XL? Screen size and resolution, that's all. It is a good phone though. I love it.
My Camera- Canon EOS 600D
My late grandfather's camera was bequeathed to me, and I have been using it ever since as my primary camera. This is my first DSLR, and I have spent the Easter break learning how to use it. So far? I'm getting better. I have been using a variety of point and shoots for the longest time now, and while it can do that, it is certainly not a point and shoot. A lot of focusing, manual zooming, and altering the settings, but it takes really good pictures.
Everyone always says that I am a good photographer, and while I believe that the man makes the camera, I do feel that the camera is the tool that allows the man to make the camera. If you get what I mean. I have some good pictures of plants, of my family (including my cousin's baby), and my cat. Trust me, they're good cat pics.
My TV-LG 24MT49S
LG makes the best Televisions. The reason that I bought this was out of necessity, as my Samsung smart TV, which had served as a monitor for my old PC, did not support Freesat, which my brother and I got for our bedrooms when redecorated. My brother had a Freesat TV, I did not. So I bought this, for under £180. A great TV, and perhaps the best software on a smart TV. I use the smart stuff quite a lot, but I do have a complaint. YouTube always crashes. It a big pain, which compelled me to make my next purchase…
My Smart Room- Google Chromecast and Google Home Mini
The Google Home Mini is amazing, and I was fortunate enough to get it for free when I got my phone, just before Christmas, I had planned to give it away until I determined what it could do, and it could do quite a bit. I mainly use it to play music, podcasts, news, ask it questions, and control my Television. As I watch a lot of youtube and online stuff, I tend to use it a lot on my TV, but as the LG app crashes a lot, I decided to get a chromecast to solve the issue. And it works so well. I can control the app either with my voice, or my phone; which I do interchangeably as I have the LG remote app too to control my Live Television. The chromecast was so good and inexpensive, I bought one for my old TV at my Uncle's house.
My Blu Ray Player- LG BP250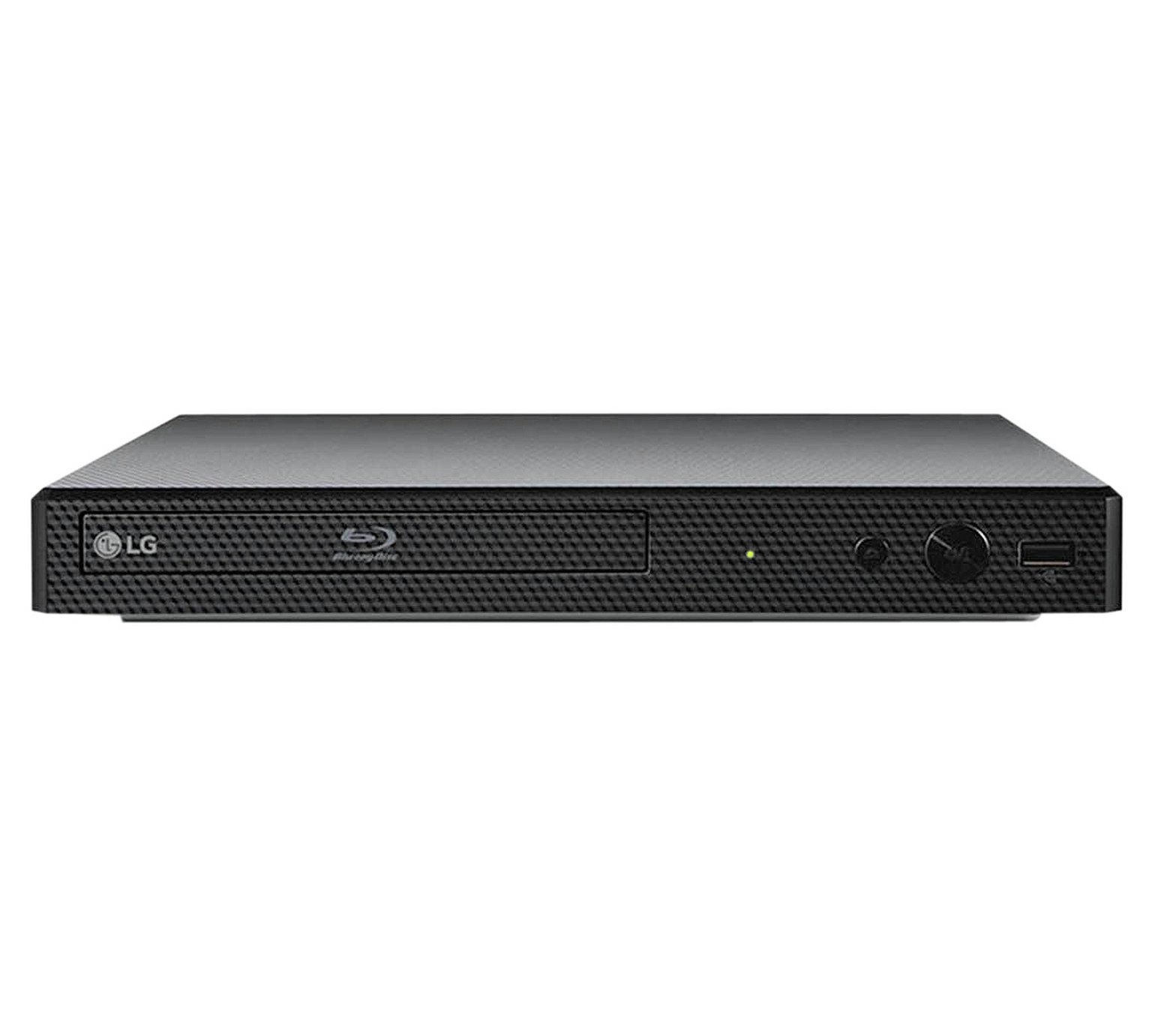 A theme of the new tech I  have is new frontiers, at least for me. I remember when Blu Ray was first released in 2007, and it did nothing for me. When my dad got his PlayStation 3, we had our first blu ray; a copy of Casino Royale. We never invested in the new technology then, as it was expensive, and DVD's had a much larger catalogue to choose from. When I got my new TV, I decided that I wanted a DVD player to go with it, to play my DVD library. I decided, however, that it would be just as wise getting a blu ray player.
I remember the players being £1000 in 2007, as well as I can remember the format war between Blu Ray and HDDVD. I thought that the latter was a silly name. When I got my player 10 years later, it was £55! Blu ray is still a niche, mind, with streaming being the main thing, but it is still a good one, and you are increasingly having an easier time finding new releases on blu ray over DVD. My player is good, it does exactly what I want it to. It upscales my DVD films and shows and can play my blu rays in full HD. I also plug in my hard drive a lot in the USB port to watch stuff I have on there. Having the player is much more convenient for me, and my collection
My Speakers- Edifier R1280T Wired Active
These are the first pair of speakers I have ever bought. I bought them for £90 on Amazon, and they are amazingly good, for their price. They're solidly built and go up to a pretty loud volume. You can alter the bass and the treble, and it even has a small remote control too. Its a pretty solid package for the price, and I have no complaints since buying them. They were originally meant for use for a PC, as powered stereo speakers for a computer. That is not what I use them for. Instead…
My Turntable- Audiotechnica LP60BT
Yep. I've gone and done it. I am now a proud part of the vinyl resurgence. Sorry, record resurgence. My Uncle hates me calling it 'vinyl'. I've been debating doing it for a long time now, and I decided to bite the bullet, and I got this for my 21st birthday. It's fully automatic, and on a belt drive, and it's a pretty solid first turntable. That isn't to say that the turntable is without fault. There's no USB port on there for computer transfer of your priceless collection, which I am fine with. All the albums I have are either on my computer as MP3's, or they came with a download code for an MP3 copy of the album, so it really isn't a huge deal.
The main concern is that the Bluetooth isn't very good. We struggled to connect to anything when we first got it, and setting it up was a hassle, but we did connect it to my Bluetooth headphones, but we could not connect it to the Bluetooth speakers, neither mine or my mum's. Fortunately, I have my speakers so my turntable can be played with and listened to. And it's good. My collection of albums is pretty modest, mind, but it is growing, and they sound good on the system. If you're interested, I have the following albums:
Alice Cooper- Welcome to my Nightmare
David Bowie- Station to Station
George Harrison- All Things Must Pass (an original one from my Grandad Attwood, who bought it when released)
Iron Maiden- Somewhere in Time
MGMT- Little Dark Age
Mike Oldfield- Tubular Bells
Queen- Queen (My Uncle's copy)
Queen- A Night at the Opera
Queen- News of the World 40th Anniversary edition
Pink Floyd- Wish you were Here
Madness- The Rise and Fall